Exceptional, Relaxed
Dentistry Where We
Partner With You
To Put Your Needs First
Trusted Dentist in Hawksburn For More Than 20 Years
At Hawksburn Village Dental we are dedicated to providing our patients with the highest quality dental care in a relaxed, friendly and compassionate environment. We partner with our patients in providing all options available in real talk and then fully supporting them with their decisions.
We continue to stay at the cutting edge of dentistry through ongoing professional development.
We treat our patients and each other with integrity, honesty and respect, just like we would treat our own family members.
OUR DENTAL SERVICES INCLUDE:
GENERAL DENTISTRY
A huge aspect of general dentistry is prevention. Before any treatment is done, a comprehensive exam comes first.
COSMETIC DENTISTRY
Our cosmetic services are comprehensive. We handle general oral care and more!
CHILDREN'S DENTIST
At Hawksburn Village Dental, we're proud to say our dentist Dr. Pohl has been working with children for twenty years and counting.
ZOOM! TEETH WHITENING
We use Zoom! whitening technology, which delivers remarkable results, and all it takes is a one-hour office visit!
VENEERS
At Hawksburn Village Dental, we can help you smile again. If you want to know more about our porcelain veneers and how they can work for you
IMPLANT DENTISTRY
We have quality dental implants with knowledgeable and kind dental professionals that will make you feel at home every step of the way.
BOOK YOUR APPOINTMENT ONLINE
If you have dental health problems, there's no time to waste. Hawksburn Village Dental welcomes all new and returning dental patients with a smile.
Booking with Hawksburn Village Dental has never been easier with our online booking system. Select the available time slot and choose the type of appointment you need. Then, enter your contact information and click "Book Now". That's it!
We are so delighted to welcome new patients to Hawksburn Village Dental. We appreciate the confidence and trust you have placed in us and look forward to partnering with you to manage your dental health at an exceptional level.
During your first visit our goal is to get to know one another and for us to co-discover what your individual oral health needs are.
Provided emergency treatment is not required your initial visit customarily involves:
A discussion of relevant medical and dental history

Getting a better understanding of your specific dental needs and concerns

An assessment of your joints, jaw musculature and bite

Dental-hygiene treatment and evaluation of potential periodontal issues

Digital X-Rays to identify any problems below your gum-line or within the structure of your teeth

Clinical photos of your smile line, teeth, and gums

A discussion at the end of the assessment about your overall dental health, existing issues, and any other concerns you might have. 

Oral cancer screen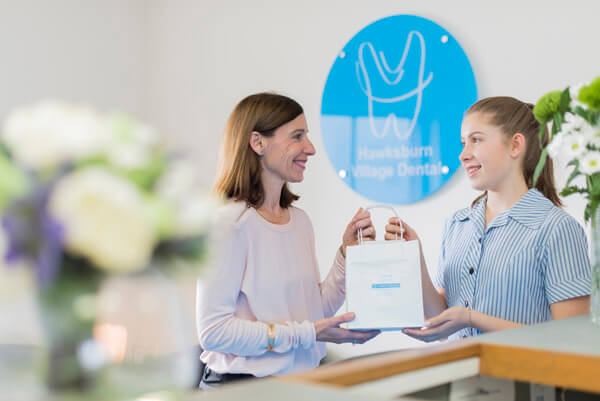 Hawksburn Village Dental is committed to providing more than just general and cosmetic dentistry. We focus on preventive dentistry as well.
Your oral health is vital to your general health and overall well being. For this reason at your initial examination appointment we do more than just look at your teeth. We examine the gums for signs of disease, we carry out a procedure known as "six step screening" to examine the soft tissues of the mouth for signs of oral cancer, and we check the jaw muscles and joints in conjunction with the teeth for signs of clenching or grinding habits which can lead to broken teeth, headaches and neck pain.
We offer care to patients of all ages and are conveniently located in Hawksburn Village . We hope to hear from you soon. Call today for quality dental care.
Our practice is located in Toorak and our convenient location provides quick and easy access to nearby public transport hubs, free street parking, a nearby pharmacy, and a radiology and pathology lab. A trip to Hawksburn Village Dental is a painless experience in all the ways that matter, not just your teeth.
Call Today (03) 9826 5058